For more than 20 years, Hassab labs have always been keen on working with the latest medical testing equipments, high tech machines and diagnostic techniques. Recently and after the rapid progression that has occurred in the field of medical laboratory testing, we enhanced and supplied our central labs with the most advanced machines available worldwide.
Our maintenance department is controlled and managed by technical professionals who work closely with technical units' managers to ensure machines work with best performance. All our technical units use fully automated machines that process the samples without any human interference to eliminate the errors that might occur in the analytical phase of testing.
Those new technologies, used in our labs, save time and effort and ensure providing our customers with the most precise results and fastest turnaround.
ADVIA 2120i
ARCHITECT i2000
BN ProSpec
Sysmex CA 560
Sysmex CA 1500
COBAS Ampliprep/TaqMan
Cobas 6000
Dimension RXL Max
IMMULITE 2000
step one
Sysmex XT 1800i
ADVIA Centaur XP Siemens
FISH
ADVIA 2120i
ADVIA 2120i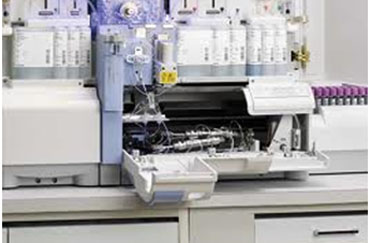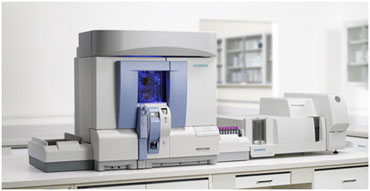 Sysmex is a registered trade mark of Sysmex Corporation in USA and Germany and other countries.
The ADVIA® 2120i System with Auto-slide streamlines workflow by eliminating the majority of manual steps commonly performed to maximize productivity.
It delivers gold-standard flow cytometry peroxidase methodology for optimum results.
Differentiates microcytic anemias with advanced RBC and reticulocyte technology .
Direct measurements of intracellular hemoglobin provide sensitive and specific RBC morphology for accurate and early detection of disease states.
It provides a secondary total white cell count that acts as an internal QC check to monitor sample integrity.
Maximizes the effectiveness of costly platelet transfusions with accurate results the first time even at very low platelet levels.
Unique cytochemical differentiation of myeloid and lymphoid cells, and six-parameter differential supplies additional clinical information .
It performs 120 CBC with differential / hour.
ARCHITECT i2000
BN ProSpec
Sysmex CA 560
Sysmex CA 1500
COBAS Ampliprep/TaqMan
Cobas 6000
Dimension RXL Max
IMMULITE 2000
step one
Sysmex XT 1800i
ADVIA Centaur XP Siemens
FISH